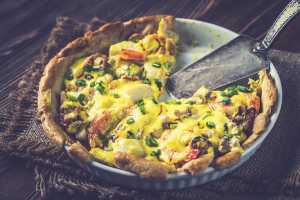 Order your Easter treats today and have them delivered to your home. Our online menu has expanded to include our Seafood Fish Mornay Pie and Easter chocolate boxes, just in time for Easter. Delivered to your door so you can enjoy your intimate Easter in the comfort of your own home.
Order any of our delicious pies or quiches, which cater for 6-8 portions, a great idea for treating the family this Easter. Select from our Beef Stroganoff pie, Chicken and Veggie pie, Lamb rosemary pie, seafood mornay fish pie and many more.
Our Easter Chocolate box for 2 includes
Decedent chocolate and walnut brownies
Baked Raspberry and White Chocolate cheese cake
Chocolate Florentine slice
Choc Chip cookie
Mini chocolate mud cake
Easter eggs
These are a perfect Easter gift box to send to someone special, or for treating yourself.
Our family dinners and individual portion meals are great for singles, couples or family meals.
Save yourself a trip to the store and preparations this Easter and let Innovations Catering help you with their affordable lunch and dinner options.
Order from our range of pastas, curries, meat and vegetarian dishes then have them delivered or arrange to collect them from our West Leederville location.
We do side dishes which include salads and roast veggie as well as a range of desserts. Some of these include apple crumble or chocolate mousse cups.
Instead of going out to the shop this weekend, our milk and staples can be conveniently added to your order. Add your fresh bread and essential food items to your home delivery order.
View our complete online food menu and spoil yourself this Easter with a chef cooked meal. Send someone loving thoughts with our Easter box. Place your order today to have it delivered in time for your Easter.
Happy Easter everyone! Stay safe.