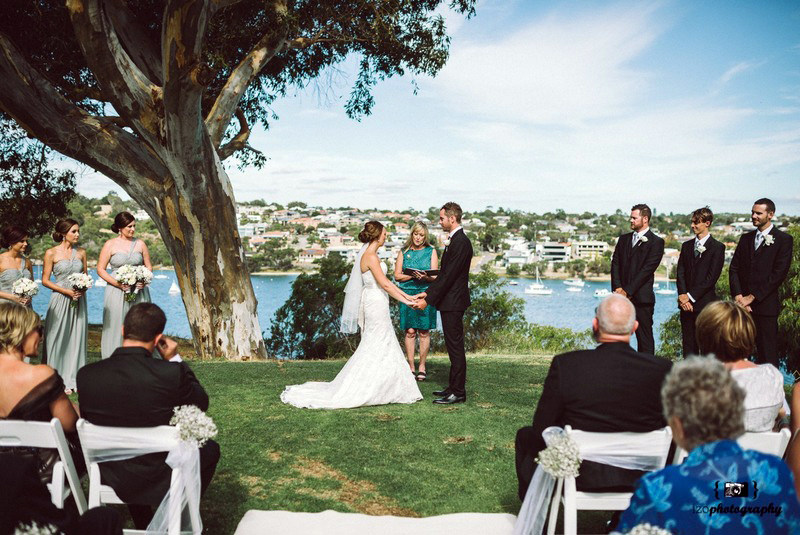 Located at Chidley Point overlooking the Perth Swan River, this venue is not just for golf enthusiasts. It boasts 180 degree views from Fremantle to Perth. With million dollar views like this, it makes it a perfect venue to host a wedding.
Combine your ceremony and reception in one place. Simply have your wedding ceremony overlooking the water and reception in the nearby Chidley room. The venue accommodates for up to 150 people for a cocktail event or 100 people for a sit-down event. The function room opens onto an outdoor deck letting your guests enjoy cocktails with a view.
Mosman Park Golf Club has manicured lawns overlooking the water and many photographic opportunities. You can set up and style the lawn area to match your dream wedding ceremony vision.
Choose your own catering style for your event from sit down formal dining, cocktail finger food to one of our grazing table options to complement. Innovations Catering has catered many wedding receptions at this lovely venue and working with Tony and his team is always a pleasure ensuring your event is seamless.
Overall, the convenience of having a ceremony, photos and reception all in the one place makes it a stress free day.
For smaller corporate meetings or events like Christmas parties, the Doug Stokes room is a suitable choice. This function room has visual and professional presentation equipment. Take advantage of their facilities and combine a golfing day by throwing in a round or two of golf after the seminar. Then fire up the BBQ in the outdoor area afterwards.
Mosman Park Golf Club is a fully licensed venue offering beverage packages to suit all requirements and budgets. Mosman Park Golf Club never fails to impress with its location away from the hustle and bustle of the CBD amongst breath taking views.
To book this venue, complete their online enquiry form.
Mosman Park Golf Club Information
Mosman Park Golf Club Website
2 Marshall Street Mosman Park WA 6012
Ph: (08) 9384 6312