Have you been tasked with organising your office Christmas party?
Finding it all a little daunting?
Did you pull the short straw for the office Christmas party? With just a few months before Christmas is sprung upon us and lots of end of year tasks to do, arranging any kind of party at this time of year can feel a little overwhelming.
Never fear Innovations Catering is here to assist you with all your catering needs during this Christmas period. Whether you are planning a Christmas do at work, outdoors, or at a hired venue, don't trouble yourself with trying to sort out who's bringing what and how it will all come together and let us take care of all the catering details.
We have been in the industry for over 15 years and our catering team are well experienced in arranging catering for large and small groups, from set catering menus to buffets, grazing tables and much more. Our specially designed innovative catering menus will delight and entice all your guests, making you the winner on the day.
Select from our four menu options designed to suit any type of Christmas event. These included our Cocktail, Buffet, Sit down and BBQ menu options.
Our Christmas Cocktail menu offers both hot and cold finger food, along with more substantial menu items to select from.
Start your event with our coconut crusted prawn with mango mint dip, then add something substantial like our crispy duck confit, creamed polenta, confetti vegetables with sour cherry sauce and finish with a wonderful selection of desserts like our Toblerone dipped porfiteroles filled with grand marnier cream.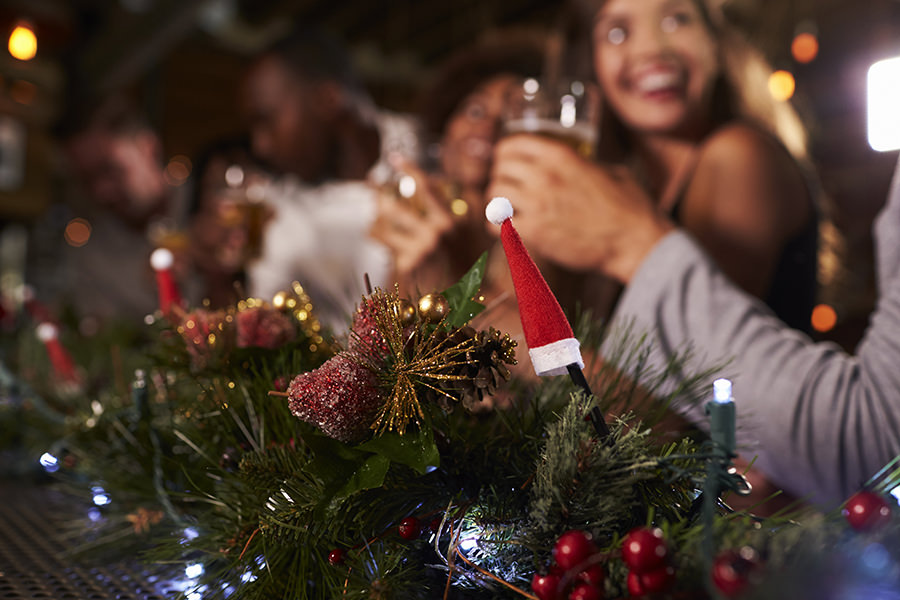 For thirty guests or more why not try our Christmas Buffet menu option, where you can preselect from 3 mains, 3 sides and 2 desserts for only $40 per person. There are both hot and cold menu options like seared Tasmanian salmon fillet with roast beets, goats curd and buttered beet leaves and add your side dish selection like our quinoa, almond, roast cauliflower, puffed pearl barley, pine nut kale salad.
For an elegant corporate Christmas party, then our Christmas Sit down menu is just the thing. Entice your appetite with our chargrilled beef fillet served with mushroom ragout, asparagus, rocket and creamed parsnip, not to mention the range of desserts. It will be a tough decision between the tiramisu and the double chocolate cherry mousse tart. Select an entrée, main and dessert, with only a minimum of twenty guest, with two or three course menu options economically priced per head.
Last but not least our Christmas BBQ menu, where we offer three BBQ menu options based on a minimum of thirty guests starting from a very affordable $19 per person. On offer will be a selection of meats, cold creations like salads, veggies and something sweet to finish.
If that hasn't got your interest best of all, we can help with all your catering needs in one place, helping you with
Christmas themed menus
Equipment hire
Beverage quotes
Service staff
We can also suggest a list of Perth venue options, we have worked with, for your office Christmas party, which generally takes most of the stress off planning an event.
View our Christmas Catering Menu, and feel free to chat to us about any dietary requirements, special needs or visions you have to create your most successful party yet.
Contact one of our friendly function & catering coordinators to discuss your requirements today.